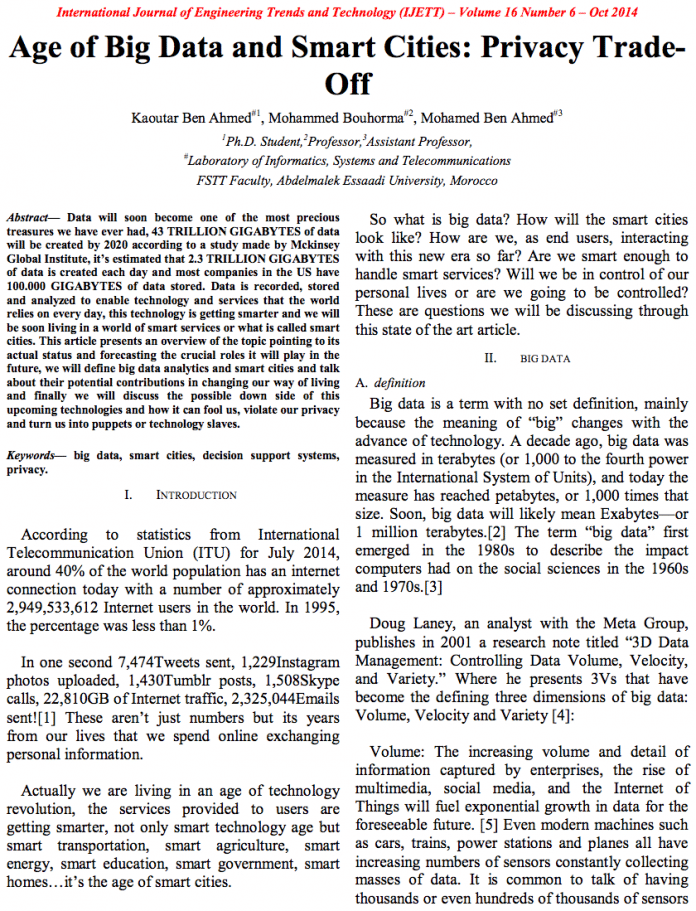 "Age of Big Data and Smart Cities: Privacy Trade-Off" [PDF] published in the International Journal of Engineering Trends and Technology (IJETT)
Abstract
Data will soon become one of the most precious treasures we have ever had, 43 TRILLION GIGABYTES of data will be created by 2020 according to a study made by Mckinsey Global Institute, it's estimated that 2.3 TRILLION GIGABYTES of data is created each day and most companies in the US have 100.000 GIGABYTES of data stored. Data is recorded, stored and analyzed to enable technology and services that the world relies on every day, this technology is getting smarter and we will be soon living in a world of smart services or what is called smart cities. This article presents an overview of the topic pointing to its actual status and forecasting the crucial roles it will play in the future, we will define big data analytics and smart cities and talk about their potential contributions in changing our way of living and finally we will discuss the possible down side of this upcoming technologies and how it can fool us, violate our privacy and turn us into puppets or technology slaves.
Full text available here: https://arxiv.org/ftp/arxiv/papers/1411/1411.0087.pdf [PDF]
Marin Ivezic is a Cybersecurity & Privacy Partner in PwC Canada focused on risks of emerging technologies.