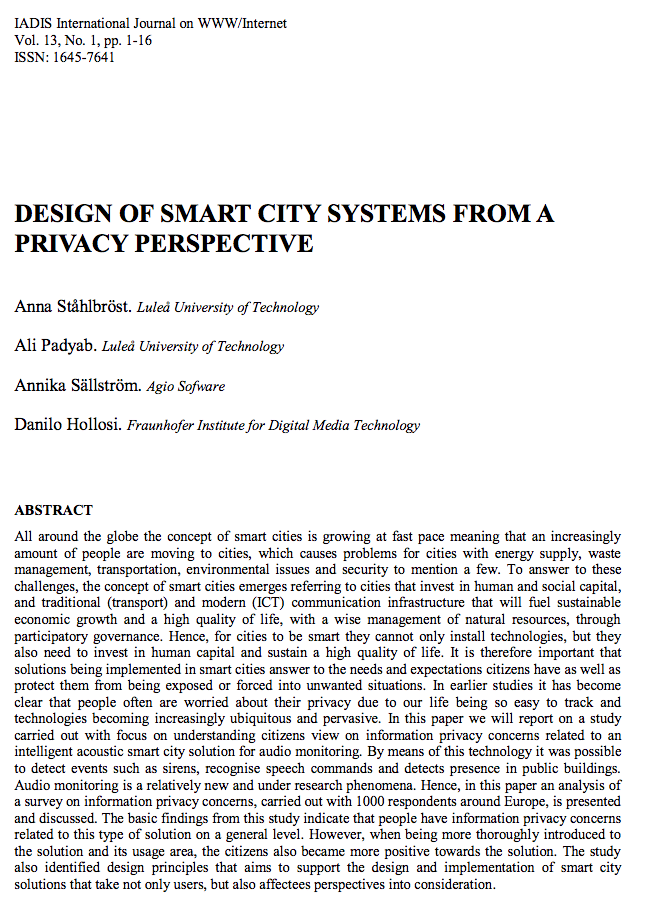 Abstract
All around the globe the concept of smart cities is growing at fast pace meaning that an increasingly amount of people are moving to cities, which causes problems for cities with energy supply, waste management, transportation, environmental issues and security to mention a few. To answer to these challenges, the concept of smart cities emerges referring to cities that invest in human and social capital, and traditional (transport) and modern (ICT) communication infrastructure that will fuel sustainable economic growth and a high quality of life, with a wise management of natural resources, through participatory governance. Hence, for cities to be smart they cannot only install technologies, but they also need to invest in human capital and sustain a high quality of life. It is therefore important that solutions being implemented in smart cities answer to the needs and expectations citizens have as well as protect them from being exposed or forced into unwanted situations. In earlier studies it has become clear that people often are worried about their privacy due to our life being so easy to track and technologies becoming increasingly ubiquitous and pervasive. In this paper we will report on a study carried out with focus on understanding citizens view on information privacy concerns related to an intelligent acoustic smart city solution for audio monitoring. By means of this technology it was possible to detect events such as sirens, recognise speech commands and detects presence in public buildings. Audio monitoring is a relatively new and under research phenomena. Hence, in this paper an analysis of a survey on information privacy concerns, carried out with 1000 respondents around Europe, is presented and discussed. The basic findings from this study indicate that people have information privacy concerns related to this type of solution on a general level. However, when being more thoroughly introduced to the solution and its usage area, the citizens also became more positive towards the solution. The study also identified design principles that aims to support the design and implementation of smart city solutions that take not only users, but also affectees perspectives into consideration.
http://ltu.diva-portal.org/smash/record.jsf?dswid=-6290
Marin Ivezic is a Cybersecurity & Privacy Partner in PwC Canada focused on risks of emerging technologies.