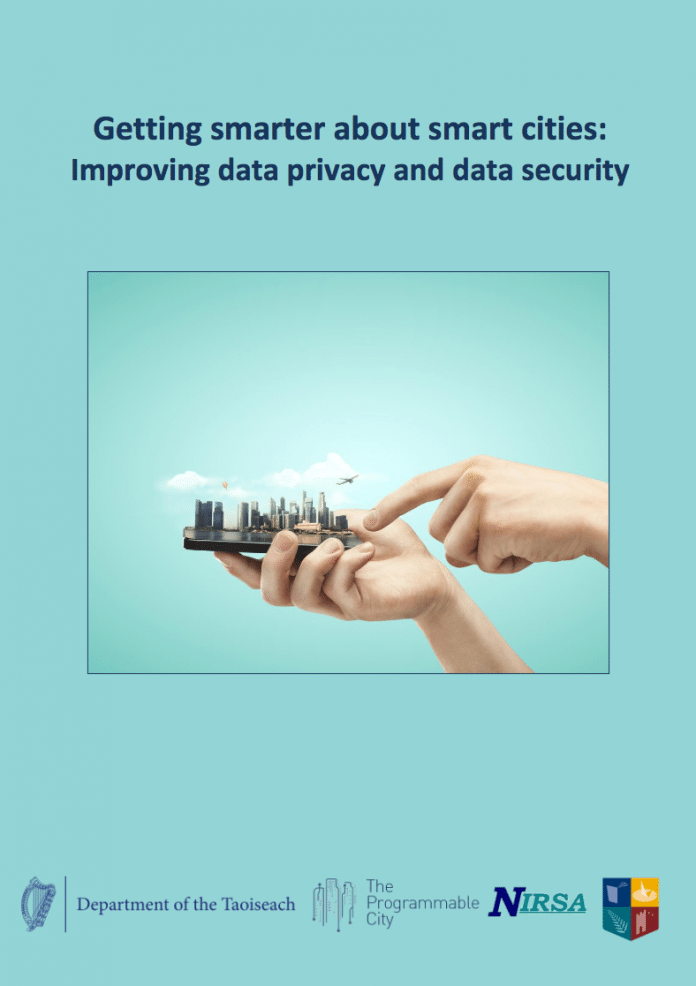 As part of 'EU Data Protection Day' a new report – "Getting smarter about smart cities: Improving data privacy and data security" – was published. The report is written by the Irish Government Data Forum, a group that brings together experts from across a wide range of sectors including researchers, industry, civil society, legal experts and the public sector to examine the data privacy and protection challenges posed by the digital age.
The report serves as a reminder that Smart Cities bring huge potential benefits in producing more efficient, productive, sustainable, resilient, transparent, fair and equitable cities.We need to ensure that we carve a path that allows us to harness these benefits while at the same time, ensuring that we do not compromise data privacy, data protection or data security.
From the Report Executive Summary:
Many cities around the world are seeking to become a smart city, using networked, digital technologies and urban big data to tackle a range of issues, such as improving governance and service delivery, creating more resilient critical infrastructure, growing the local economy, becoming more sustainable, producing better mobility, gaining transparency and accountability, enhancing quality of life, and increasing safety and security. In short, the desire is to use digital technology to improve the lives of citizens, finesse city management, and create economic development.
In this context, a wide range of smart city technologies are being deployed within urban environments… All of these technologies generate huge quantities of data, much of them in real-time and at a highly granular scale.
… However, generating, processing, analysing, sharing and storing large amounts of actionable data also raise a number of concerns and challenges.
Key amongst these are the data privacy, data protection, and data security issues that arise from the creation of smart cities. Many smart city technologies capture personally identifiable information (PII) and household level data about citizens – their characteristics, their location and movements, and their activities – link these data together to produce new derived data, and use them to create profiles of people and places and to make decisions about them. As such, there are concerns about what a smart city means for people's privacy and what privacy harms might arise from the sharing, analysis and misuse of urban big data. In addition, there are questions as to how secure smart city technologies and the data they generate are from hacking and theft and what the implications of a data breach are for citizens. While successful cyberattacks on cities are still relatively rare, it is clear that smart city technologies raise a number of cybersecurity concerns that require attention.
…
This report details the development of smart cities and urban big data, highlights the various privacy and security concerns and harms related to the deployment and use of smart city technologies and initiatives, and makes a number of suggestions for addressing trepidations about and ills arising from data privacy, protection and security issues.
…
https://www.taoiseach.gov.ie/eng/Publications/Publications_2016/Smart_Cities_Report_January_2016.pdf