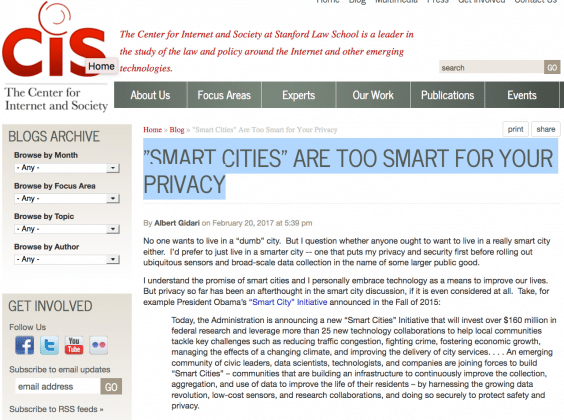 "Smart Cities" Are Too Smart for Your Privacy" is published by The Center for Internet and Society at Stanford Law School.
From the intro:

No one wants to live in a "dumb" city.  But I question whether anyone ought to want to live in a really smart city either.  I'd prefer to just live in a smarter city — one that puts my privacy and security first before rolling out ubiquitous sensors and broad-scale data collection in the name of some larger public good.
I understand the promise of smart cities and I personally embrace technology as a means to improve our lives. But privacy so far has been an afterthought in the smart city discussion, if it is even considered at all.
http://cyberlaw.stanford.edu/blog/2017/02/smart-cities-are-too-smart-your-privacy
Marin Ivezic is a Cybersecurity & Privacy Partner in PwC Canada focused on risks of emerging technologies.