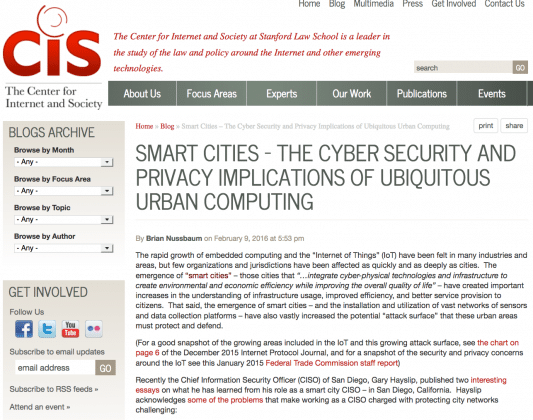 "Smart Cities – The Cyber Security and Privacy Implications of Ubiquitous Urban Computing" is published by The Center for Internet and Society at Stanford Law School.
From the intro:

The rapid growth of embedded computing and the "Internet of Things" (IoT) have been felt in many industries and areas, but few organizations and jurisdictions have been affected as quickly and as deeply as cities.  The emergence of "smart cities" – those cities that "…integrate cyber-physical technologies and infrastructure to create environmental and economic efficiency while improving the overall quality of life" – have created important increases in the understanding of infrastructure usage, improved efficiency, and better service provision to citizens.  That said, the emergence of smart cities – and the installation and utilization of vast networks of sensors and data collection platforms – have also vastly increased the potential "attack surface" that these urban areas must protect and defend.
http://cyberlaw.stanford.edu/blog/2016/02/smart-cities-%E2%80%93-cyber-security-and-privacy-implications-ubiquitous-urban-computing
Marin Ivezic is a Cybersecurity & Privacy Partner in PwC Canada focused on risks of emerging technologies. He leads PwC's global 5G cybersecurity efforts as well as industrial, IoT and critical infrastructure cybersecurity services in the region. All these focus areas are being transformed with the emergence of 5G, massive IoT (mIoT) and critical IoT (cIoT). Marin worked with critical infrastructure protection organizations in a dozen countries, 20+ of the top 100 telecom companies, and a number of technology companies on understanding the geopolitics of 5G; uncovering as-yet-unknown security and privacy risks of 5G, AI and IoT; and defining novel security and privacy approaches to address emerging technology risks.