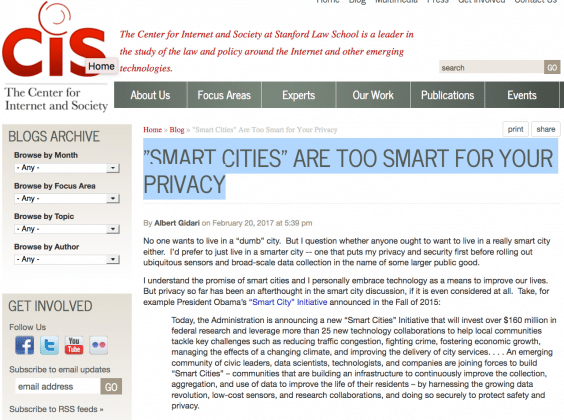 "Smart Cities" Are Too Smart for Your Privacy" is published by The Center for Internet and Society at Stanford Law School.
From the intro:

No one wants to live in a "dumb" city.  But I question whether anyone ought to want to live in a really smart city either.  I'd prefer to just live in a smarter city — one that puts my privacy and security first before rolling out ubiquitous sensors and broad-scale data collection in the name of some larger public good.
I understand the promise of smart cities and I personally embrace technology as a means to improve our lives. But privacy so far has been an afterthought in the smart city discussion, if it is even considered at all.
http://cyberlaw.stanford.edu/blog/2017/02/smart-cities-are-too-smart-your-privacy
Marin Ivezic is a Cybersecurity & Privacy Partner in PwC Canada focused on risks of emerging technologies. He leads PwC's global 5G cybersecurity efforts as well as industrial, IoT and critical infrastructure cybersecurity services in the region. All these focus areas are being transformed with the emergence of 5G, massive IoT (mIoT) and critical IoT (cIoT). Marin worked with critical infrastructure protection organizations in a dozen countries, 20+ of the top 100 telecom companies, and a number of technology companies on understanding the geopolitics of 5G; uncovering as-yet-unknown security and privacy risks of 5G, AI and IoT; and defining novel security and privacy approaches to address emerging technology risks.